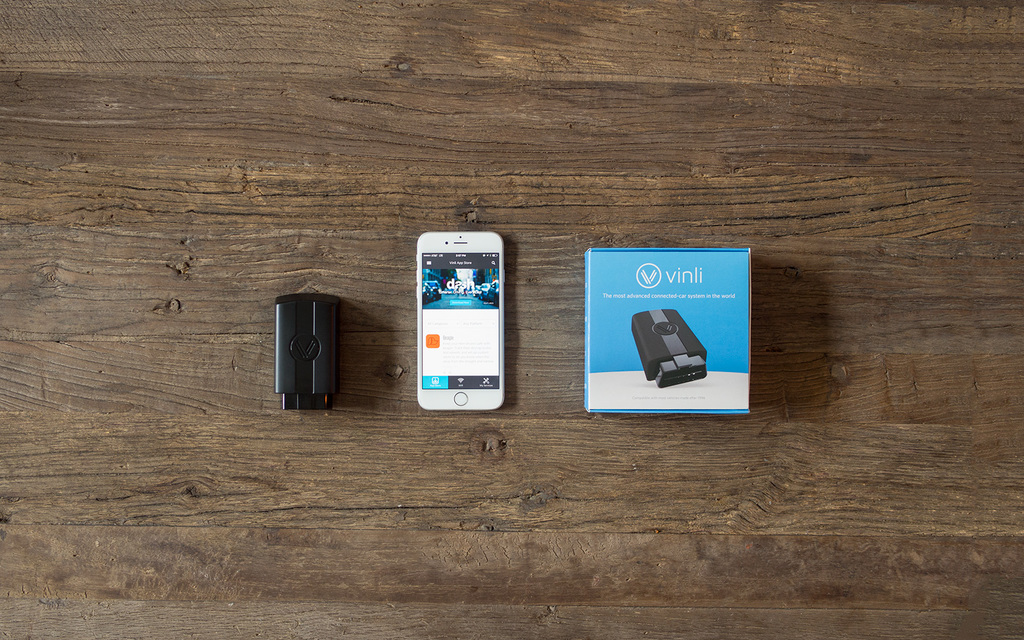 Version 1.0 introduce the concept of car mode.
Version 2.0 added after parking features ('where did I park?', 'places nearby').
Version 3.0 full ui redesign, layout edit, night mode.
Version 4.0 brings – Vinli integration to connect your iCarMode dashboard to your car's computer.
Whats is Vinli?
"Vinli is the leading cloud platform for bringing smart car functionality to any car"
If you're not familiar with Vinli, watch this short & self explanatory video:
What do you mean by iCarMode integration to Vinli?
iCarMode connects to Vinli's cloud platform and brings information streaming from your car's computer directly to your familiar iCarMode's dashboard.
After enabling and login in, your dashboard will look like this:
First two indicators: Speed & RPM
These two shows you the speed & rpm while driving, yes, it's the same as your car's dashboard – but ain't it cooler?
In iCarMode's settings you can set if you prefer km/h or mi/h.
This indicator shows you the fuel status (in percentage) and also estimates the distance you'll be able to drive till you have to refuel, this is calculated using your average miles per gallon (MPG) reported from your Vinli device.
You should set your fuel tank capacity & the measure unit you prefer – liter or gallon.
4: Diagnostics trouble code (DTC)
This indicator becomes red when your car's computer reports any problem it detects with your car's engine or any other system it supervises.
Taping on the icon will show you the list of opened problem/s so you take care of it or show it to a professional.
This indicator shows your car's battery status as reported from your Vinli device.
green indicates that the battery is likely to start
yellow indicates that the battery may have issues starting
red indicates a battery is likely to not start

6: Driving Grade
Your driving grade is part of Vinli's API, it is calculated by things like hard braking, sharp turning, speeding, active DTCs. It is a simple A-F grade for each of your trips with Vinli.
How can I start using this?
To start using your Vinli device inside iCarMode just go to iCarMode's settings and tap on 'Enable Vinli' this will pop up a login screen (after exiting the settings screen), enter your Vinli credentials and you're good to go! That's it!
As stated earlier in the settings you can also choose the units of your choice – speed and length and also your car's fuel tank capacity to help iCarMode be more accurate when calculating the distance till your next refuel.
If you have multiple Vinli devices you can set ,at any time, the one you want to be synced with iCarMode by entering the 'Vinli' button in the top left corner of iCarMode's main screen:
Sounds cool, how can I acquire a Vinli device and/or learn more about it benefits?
Just go to Vinli's website for more information.
If you have any more questions or feedback about iCarMode+Vinli configuration – feel free to contact me at: support@iCarMode.com
Drive safely,
Diego Resnik
iCarMode 💘 Vinli